Stacy L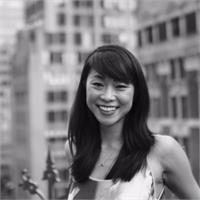 In Stacy's classes, she tries to nurture a fun environment to encourage her students to ask questions and be playful. She likes to take yoga poses that appear challenging and instead make them more approachable. Stacy's style of teaching is influenced by her teachers Stacey Brass-Russell, Bryn Chrisman, Frank Mauro, and Anna Greenberg. Doubling as a Registered Dietitian, Stacy also believes that yoga can promote body positivity and self-love, something that can ultimately benefit one's relationship with food and health. When she's not on the mat, you may find her at her at Levain Bakery, her favorite cookie joint in Harlem.
Stacy L instructs the following:
Move with your breath, settle into stillness, and quiet the mind. What to expect: Flow classes offer accessible, mixed-level, instruction appropriate for all practitioners. Expect a balance of mindful breathing and careful movement. If you crave continuous movement, this class is for you. This 60-minute class is held at 85°F. Online pre-registration closes 30 minutes before class begins. Late entry is not permitted. The late-cancellation window begins 12 hours before class begins. Cancellations that take place during that window will result in a charge of $5. Missing class without canceling will result in a charge of $20 (or loss of class credit).