Yvonne C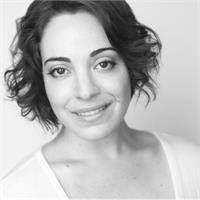 Yvonne's classes take an alignment focused, injury preventative, and prop supported approach; encouraging her students to build a practice based on incremental growth and rejuvenation. As a Yoga Tune Up® certified teacher, she utilizes corrective exercise, myofascial release techniques, and breathing strategies to help align yoga with her students' overall health and wellness goals. She is inspired by mentors Jodie Rufty and Sarah Bell, as well as Puy Navarro and Mona Anand.
When not teaching she can be found traveling the world with her partner, writing for film, voraciously reading anything she can get her hands on, and running her not-for-profit theater company Shrunken Shakespeare. Her gluten free and nutritional restrictions find a home at Pisticci in West Harlem for out of this world Italian food.
Yvonne C instructs the following:
Move with your breath, settle into stillness, and quiet the mind. What to expect: Flow classes offer accessible, mixed-level, instruction appropriate for all practitioners. Expect a balance of mindful breathing and careful movement. If you crave continuous movement, this class is for you. This 60-minute class is held at 85°F. Online pre-registration closes 30 minutes before class begins. Late entry is not permitted. The late-cancellation window begins 12 hours before class begins. Cancellations that take place during that window will result in a charge of $5. Missing class without canceling will result in a charge of $20 (or loss of class credit).