Rachel S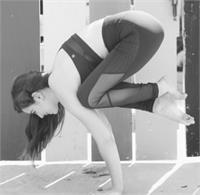 Rachel's classes focus on using the breath to embrace and ignite our power within. She focuses on alignment in challenging and creative flows, all about moving with the breath in the body. Rachel loves how yoga has brought her back to herself and into her body, and tries to ignite that passion and compassion within her students. Off the mat, she is an actor and spends her time with a few theatre companies, auditioning, and listening to comedy podcasts on the train. She is also an avid traveler and tries to get to a few new counties every year. Walking the city in the spring and summer is her favorite…chances are you won't find her on the train during that time, but probably grabbing coffee at Monkey Cup and connecting with nature.
Rachel S instructs the following:
Move with your breath, settle into stillness, and quiet the mind. What to expect: Flow classes offer accessible, mixed-level, instruction appropriate for all practitioners. Expect a balance of mindful breathing and careful movement. If you crave continuous movement, this class is for you. This 60-minute class is held at 85°F. Online pre-registration closes 30 minutes before class begins. Late entry is not permitted. The late-cancellation window begins 12 hours before class begins. Cancellations that take place during that window will result in a charge of $5. Missing class without canceling will result in a charge of $20 (or loss of class credit).