Halima H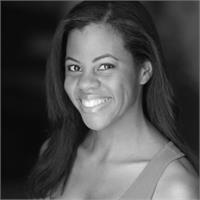 Halima's classes bring a focus of proper alignment, a straightforward yet challenging sequence, in a light-hearted and welcoming environment. She believes a mindful practice can decompress and strengthen the body, mind and spirit. A Michigan native and proud University of Michigan alum, off the mat she is a professional actor and moonlights as a theater teaching artist in NYC public schools. Halima's style is influenced by her teachers Stacey Brass-Russell and Bryn Chrisman. She has a penchant for theater and dance, good books, and the occasional gummy bear. Halima's Harlem Hangout is Barawine.
Halima H instructs the following:
Move with your breath, settle into stillness, and quiet the mind. What to expect: Flow classes offer accessible, mixed-level, instruction appropriate for all practitioners. Expect a balance of mindful breathing and careful movement. If you crave continuous movement, this class is for you. This 60-minute class is held at 85°F. Online pre-registration closes 30 minutes before class begins. Late entry is not permitted. The late-cancellation window begins 12 hours before class begins. Cancellations that take place during that window will result in a charge of $5. Missing class without canceling will result in a charge of $20 (or loss of class credit).