Argentina R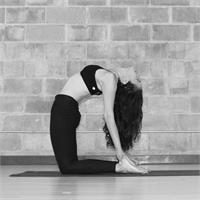 Argentina's classes focus on finding balance between effort and ease. Her concise cues and challenging sequencing allow students to practice mindfulness through movement. She began practicing yoga over 12 years ago to help navigate major life changes and began teaching in 2015. Her teaching style is influenced by Sarah Platt - Finger and Alexandria Crow. Argentina enjoys walks with her dog Rocky and stopping by Lenox Coffee and Levain Bakery.
Argentina R instructs the following:
Move with your breath, settle into stillness, and quiet the mind. What to expect: Flow classes offer accessible, mixed-level, instruction appropriate for all practitioners. Expect a balance of mindful breathing and careful movement. If you crave continuous movement, this class is for you. This 60-minute class is held at 85°F. Online pre-registration closes 30 minutes before class begins. Late entry is not permitted. The late-cancellation window begins 12 hours before class begins. Cancellations that take place during that window will result in a charge of $5. Missing class without canceling will result in a charge of $20 (or loss of class credit).