Ashley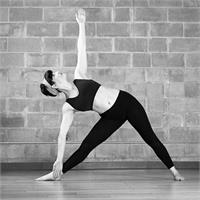 Through progressive and goal oriented sequencing Ashley's classes offer students the opportunity to confidently move into postures with ease. With a focus on building strength and flexibility students experience greater stability in their practice. As a dancer Ashley found yoga to be an effective way to warm up and rehabilitate after injury. Ashley began teaching yoga in 2014 and is a graduate of the Unity Yoga Mentorship Program. Her teaching style is influenced by Jen Whinnen and Sarah Rehman. Ashley's favorite neighborhood spot is Maison Harlem.
Ashley instructs the following:
Move into stillness. By way of deliberate linking of movement and breath, Flow offers practitioners the opportunity to quiet the disturbances of the mind. This alignment focused practice offers the right balance of effort and ease, sweat and surrender. Expect this class to include a balance of detailed alignment, mindful breathing, and careful movement. This may vary in pace or intensity class-to-class and teacher-to-teacher. The music selection will complement the class focus.Classes are inspired by the studio's Pose of the Month. This 60-minute, Level 2 class is held at 85°F.