Brenda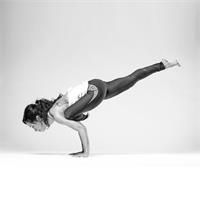 Brenda's thoughtful instruction encourages greater focus and concentration; her well-prepared sequences include moments effort and ease, sweat and surrender. Brenda's asana practice offers her tangible means to build strength and confidence. Through sharing her yoga practice with her students she hopes to generate interest in its physical and emotional benefits. Brenda began teaching in 2013. Her style is inspired by Patti Quintero and Jason Crandell. Off her mat Brenda enjoys running and pilates. Her favorite local spots are Serengeti Teas & Spices and The Chipped Cup.
Brenda instructs the following:
Move into stillness. By way of deliberate linking of movement and breath, Flow offers practitioners the opportunity to quiet the disturbances of the mind. This alignment focused practice offers the right balance of effort and ease, sweat and surrender. Expect this class to include a balance of detailed alignment, mindful breathing, and careful movement. This may vary in pace or intensity class-to-class and teacher-to-teacher. The music selection will complement the class focus.Classes are inspired by the studio's Pose of the Month. This 60-minute, Level 2 class is held at 85°F.